Designers, Architects, Collaborators...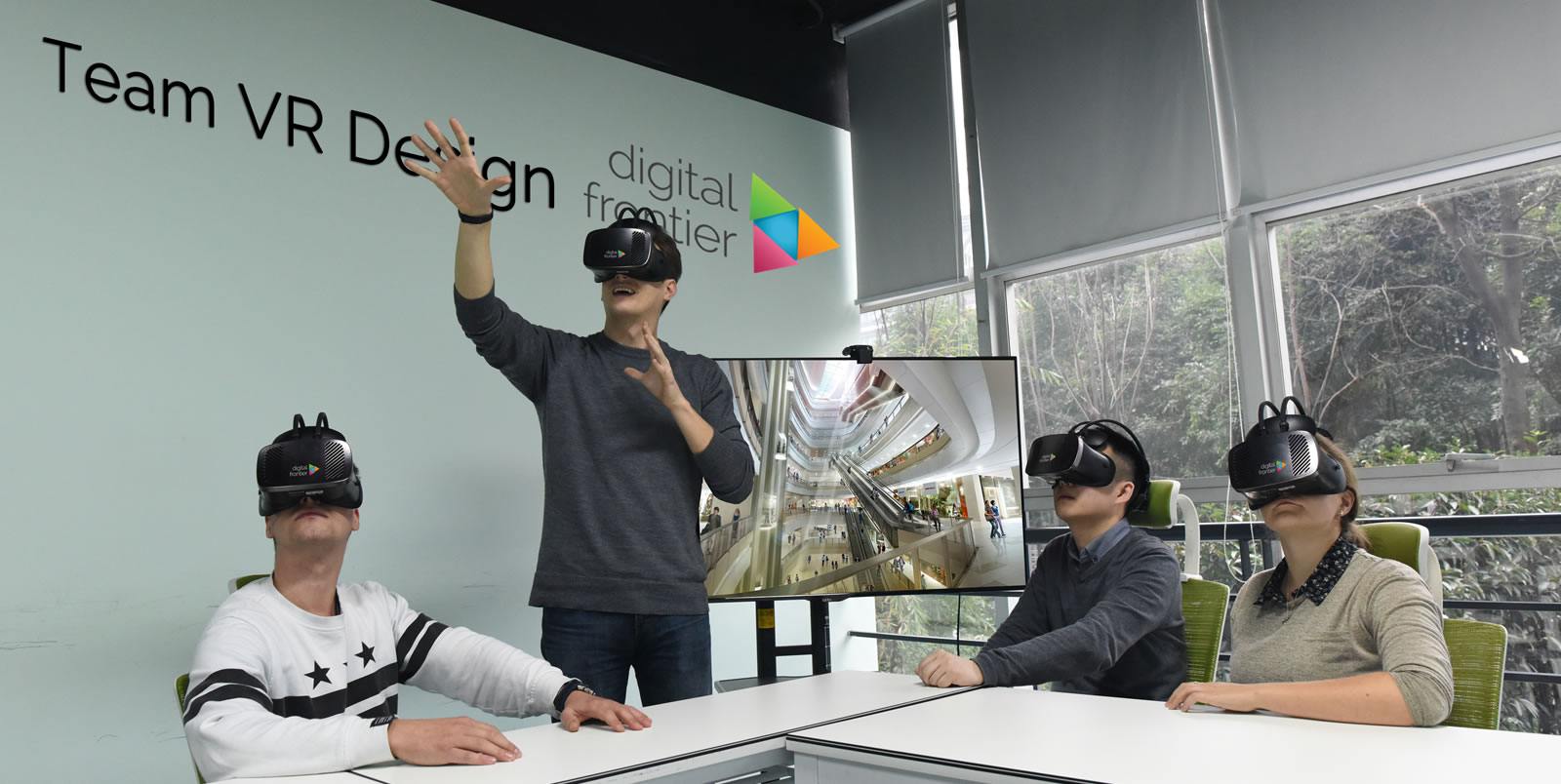 Virtual Reality – great fun if you are the one wearing the glasses. Pretty boring if you are not.
Virtual Reality has a flaw – a big flaw: Only one person can view the Virtual Reality content at a time.
So, if you are the person sitting and waiting for the glasses to come your way in a meeting you may be downright bored. Never mind the wows and the exclamations coming from the viewers. For you it's like watching a movie with your eyes closed.
While Virtual Reality is a great tool for design analysis, not being able to interact with the team at the same time makes it a lonely occupation and severely limits the practicality of using Virtual Reality as a design tool.
Even the work-around – watching the VR content on a TV screen – doesn't work. One person is in the VR/3D space and everyone else is seeing a 2d representation of the space. That's like having to watch a black and white movie while everyone else is seeing in colour.
But not any more……..
Creating an entirely new function meant creating an entirely new technology.
Team VR Design – Designers, Architects, Collaborators
So much more…
and so much less than before.
Software and hardware seamlessly combining to bring you a whole new way of design analysis.
Digital Frontier has created a hardware software combination that allows a whole group of people to enter the same Virtual Reality space at the same time and see exactly the same thing.
Teams can now walk through virtual design spaces together, be amazed together, comment together, and get down to the nitty gritty that is collaborative design critique.
Using the stand-alone Idealens K2 headset and a unique software algorithm, multiple headsets can be linked together to view the same content at the same time.
No wires. No Smartphone. No Computer. No Hassle. No More Boring Meetings.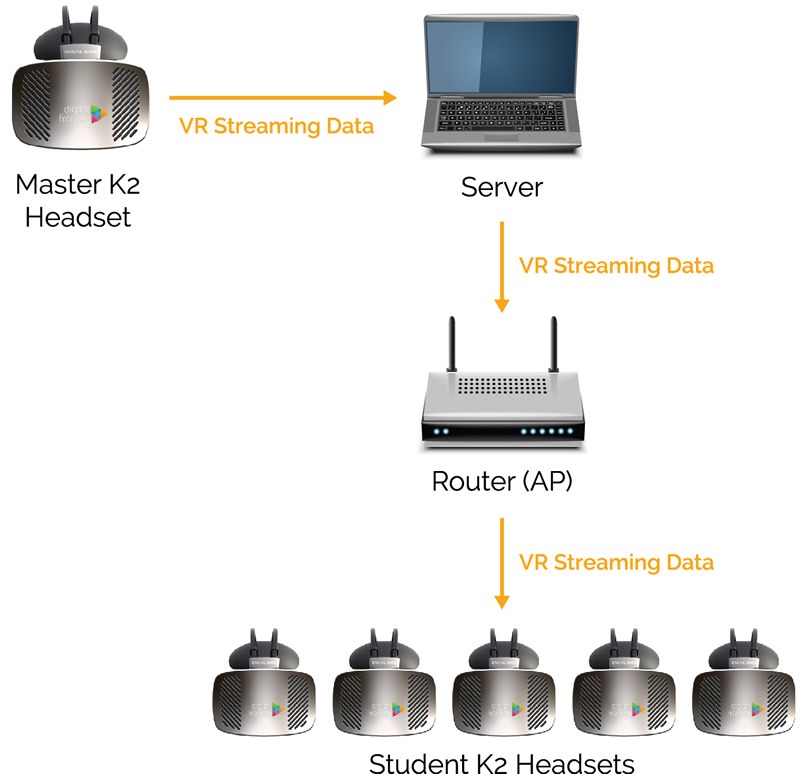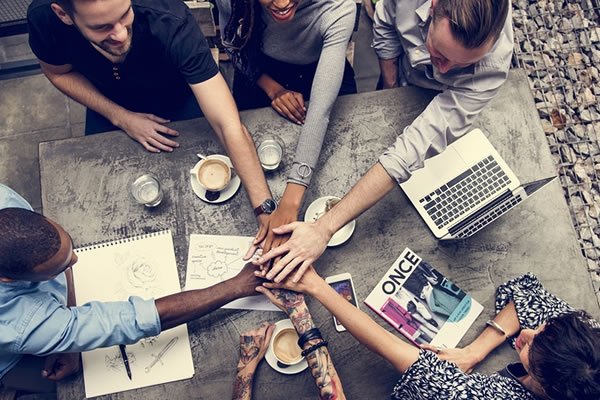 Content
Content is as simple as copying the Virtual Reality MP4 file (exported from design software packages such as Lumion or 3DMax).
You do not need to get outside content providers to create content and the system will run any VR MP4 file in your libraries.
Compatible with 360° camera footage as well as design or CGI created content.
Simple: Render, Load, and View.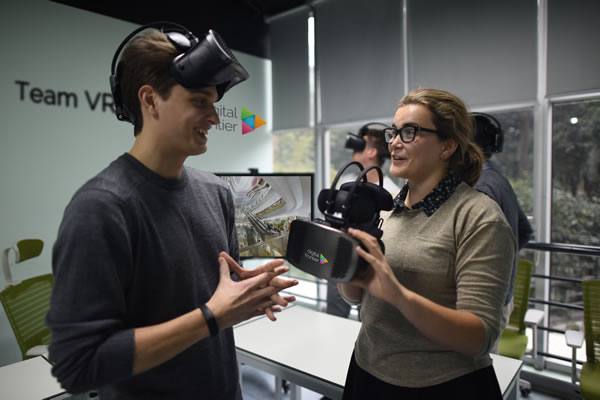 For the techies in your team
IDEALENS K2:
3s fast wearing, 90Hz ultrahigh refresh rate, 259g ultralight dead-weight, 120° oversized FOV.
Server Required:
Ordinary low-spec laptop or existing company server.
Technical information:
Intel Core i3 CPU (minimum), Integrated Graphics Card, 4GB RAM, Router similar to Netgear R7000.
Team VR Design Investment
Desire is tempered by outlay …. How much is this going to cost me?
One thing for sure: getting the Team VR Design solution into your design pipeline won't cost you a million dollars or an arm and a leg.
And it won't create any gray hairs in your tech team because it is plug and play – the software that runs the system is pre-loaded.
Hook it up and start making the coffee for the team.
And since it does not require a high-end graphics computer for every head set and does not use headsets that mortgage your life the investment required to get this up and running for your team is minimal.
Add more headsets, add more investment. Subtract headsets and lower the costs.
So, the investment required is tailored exactly to the size of your team.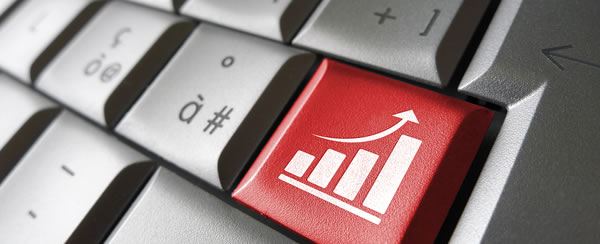 [CP_CALCULATED_FIELDS id="6″]
ARCHITECTS – DESIGNERS – COLLABORATORS
To Launch This New Technology: WE ARE GIVING AWAY, FREE OF CHARGE
10 FREE sets of a 5-Headset Team VR Design System.
AND: That includes the creation of the VR content as well as the hardware and software.
To take advantage of this offer simply get Digital Frontier to produce a Standard 3 minute fly-through and we will add the bonus system completely free of charge.
Then we will turn the animation into full VR content to use in the system.
Including the free content, that's around $20,000 dollars of value*.
But you need to move fast because we have strictly limited the number of systems to the first 10 people who respond to this offer.
*Savings Value is based on current retail price of $5,750 for a 5-headset system and current Digital Frontier average content cost of between $15,000 and $25,000 for Interactive VR content from a 3-minute animation.
1. What are the terms of the 5 Headset Bonus Offer?
There are 10 bonus sets available.
The bonus offer is offered the commission of an architectural animation.
If you have an architectural animation coming up soon, we will give you free of charge the Team VR Design System with 5 Headsets ($5,750 USD) and VR content based on the animation (Between $8,000 – $20,000 value)
The bonus will be valid on receipt of a deposit of25% of the animation commission.
Prices on animation are between $8,000 and $12,000 per minute depending on the complexity and additional extra such as voice overs and video integration.
2. What is the timeframe for delivery of hardware and software?
Official launch is the beginning of May. The bonus offer is available throughout April until 10 Team VR Design Systems have been claimed.
After the launch the Team VR System is available at the pricing on the website calculator.
3. Can every user look around individually?
No. The student headsets move in synch with the master control headset.
4. Can playback be paused?
Yes – by tapping the touch pad on the right-hand side of the headset.
5. Can you move around freely?
Yes. The headset takes a VR capable MP4 file. Any interactivity built into the presentation can be triggered by using the headset touch pad on the interactive buttons.
6. How many users can use this at the same time?
Up to 50 people linked via the server/router can share the viewing experience. After 50 people a modified server/router would be required. Successful tests have been done on 300 linked headsets.
7. Are changes to the model able to be made while using the Team VR Design System?
Not at this stage. There is an updated version in development that will allow for mark-ups to be done, but not model changes.
8. Can screenshots and files be saved?
Yes – by viewing the content via computer screen and activating 'Print Screen' screenshots can be saved.
9. If I take advantage of the Free Team VR Design Bonus Offer how long is production for both for the animation and the VR portion?
Animations generally take 4-6 weeks to produce depending on the complexity. The VR content from the animation will be available at approximately the same time or within 2 weeks of the completion of the animation, depending on complexity.
10. Can people view remotely or do they need to be in the same room?
The viewers must be within Wi-Fi range.
11. What design software is compatible with Team VR Design?
Any design software that has the function of VR export can be used. The headset works best on a VR enabled MP4 files.
Interactive VR Content can be produced in either Unity or UE4 and loaded onto the headsets and will be interactive via the touch pad on the right-hand side. in
12. Does Team VR Design have an online platform to download content from?
At this stage, there is no in-house online platform however, Team VR Design can use the content from existing online content providers.
13. What is the resolution of the headset?
The native resolution on the Team VR Design System headset is 2k.
14. Do you have customer support?
Yes. Customer Support is via email on customer.support@TeamVR.design
15. How long does the battery of the headset last for?
The battery is designed to work for 2 hours of heavy use – large file, constant viewing. With smaller file sizes and processing time the battery will last longer.
It is uncomfortable to spend 2 hours constant viewing of VR content.
16. Is there a license/deal for educational institutions?
The Team VR Design System has been priced with volume discounts already applied, therefore the pricing will depend on the number of headsets ordered.
17. Is there a SDK to be able to develop for Team VR Design System?
There are SDK's for Unity, Java and Native Scripts.
18. Is Team VR Design System available globally?
Yes. Sales are managed globally by Digital Frontier and dispatched from their design studio in Chengdu China. In the future, it is possible Team VR will be available through Amazon with product held in the United States.
19. Is there an additional license fee or subscription option?
There will be updates with new capabilities which will be offered as paid updates as they are developed.
The license of the existing software is perpetual and the updates will be optional.
20. How large is the internal storage of the headset?
32 GB.
21. Can I load multiple projects on to the headset?
Yes. As long as the internal storage has free disk space.
22. Can Team VR Design be used remotely across different locations and teams at the same time working on one project?
At this stage the Team VR Design System will only work when within WiFi range. There is an internet linked system in development to allow for viewing anywhere in the world.
23. Can the content from the headset be streamed on a screen during presentations?
Yes. The content can be viewed on a computer/projector screen linked through the server.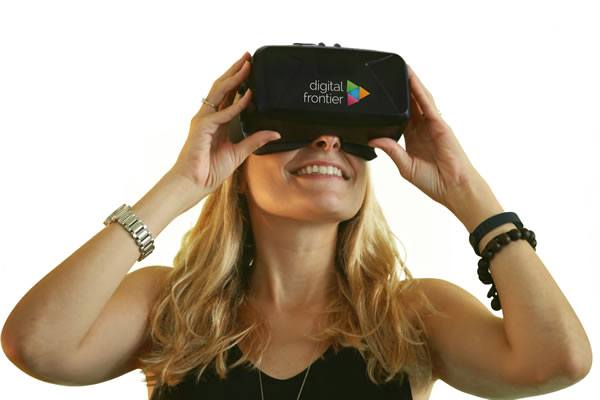 Digital Frontier is a world leader in marketing and creative concept visualizations.
Combining a strong focus on innovation in the VR/AR and technology fields with more than 20 years experience in the burgeoning China market.
Digital Frontier has the knowledge and insight to boost your visibility in any market.
Its Chengdu base and mix of local and international talent which combines global knowledge with local expertise, enable Digital Frontier to deliver design innovation and responsive service combined with marketing capability.
Digital Frontier utilizes cutting edge technology to bring complex designs to life through 3D, 360° footage and VR imagery. Digital Frontier's suite of products will help the client evaluate and sell designs before they are built, with rapid iterations, accurate lighting analysis, and high-impact visuals and animations.
Digital tools such as Virtual Reality, Augmented Reality, and other visualization display products, are an excellent way to communicate a creative design, process, product or idea to end users and market stakeholders.
Whether you are an architect or property developer, a creative agency, food and beverage manufacturer, educational enterprise, tourism provider, hotel chain, or one of the hundred other client profiles we work with – we will reach your market in unique and highly significant ways.
Digital Frontier has made connections and established relationships around the world. Over 30,000+ completed projects have been in a diverse and eclectic array of industries.